S7
Level Up Your Cleaning with Sonic Mopping
From TIME. 2021 TIME USA LLC. All rights reserved. Used under license.
A Sonic Sea Change in Robot Cleaning
To shift dried-on dirt, vacuuming isn't enough. You have to scrub. Roborock S7's sonic technology scrubs floors up to 3,000 times per minute1. Eliminating dried-on dirt that some robots may leave behind, from coffee to muddy footprints and more. Combined with Roborock's first auto-lifting mop, powerful mopping is yours with a whole new level of convenience. Add its all-rubber main brush and 2500Pa2 HyperForce™ suction, and you have a true deep clean machine.
Sonic Mopping Technology1
Intelligent Mop Lifting
Ultrasonic Carpet Recognition
New All-Rubber Brush
Upgraded Floating Brush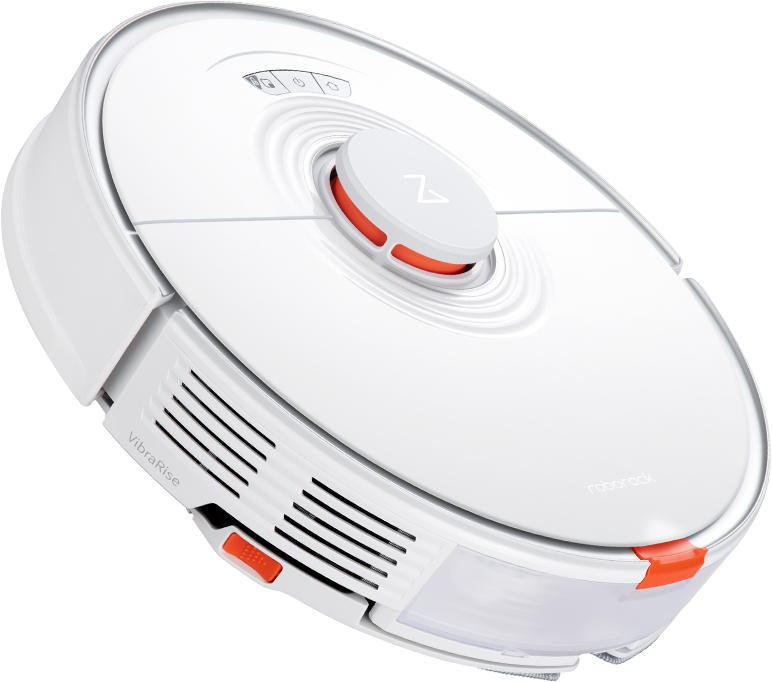 Introducing VibraRise™
Effortlessly Powerful
Mop with the Power of Sound1

Sonic vibration technology transforms robot mopping. No more dragging around a wet cloth. Now your mop scrubs up to 3,000 times per minute. Fed by a 300 ml electronic water tank, it cleans floors deeply and effectively.

Ready to Rise Up

The intelligent mop lifts3 when carpet is detected, so you can mop hard floors and vacuum carpets in a single clean4. It also raises when docked and when finished, so you can say goodbye to ugly plastic mats and dirty streaks.
Ultrasonic Carpet Recognition
Using ultrasonic sound, S7 recognizes carpet with extraordinary accuracy. Vacuum your entire home once to see every carpet on your floor, then you can choose to let it lift its mop to vacuum3,4, or you can draw a No-Mop Zone right on the carpet to keep it away.
Upgraded Floating Brush
Sticks Closer to Clean Better
To agitate dirt, a brush needs to stay close to the floor. Upgraded to allow multiple planes of movement, S7's new floating main brush tracks the ground tightly, even on uneven surfaces, to deliver a better clean.
All-New All-Rubber Brush
Long-Lasting Dirt Busting
Gone is the old, bristled design, replaced with a finned all-rubber one. It is more durable. Its spiraling blades agitate better. And it is even better at avoiding hair tangles5.
Hard Driving Suction
Equipped with Roborock's HyperForce™ suction system, S7 uses 2500 Pa2 of suction to capture fine dust on hard floors, hair from carpets, and everything in between.
Clean On and On and On
Bigger means less work for you. A 470 ml dustbin stores day-after-day of dust. A 300 ml water tank can deep clean up to 200 sqm (2150 sqft)6 in one session. Powering everything is a 5200mAh Li-ion battery that surges on for up to 3-hours7 on a single charge.
Total Control at Your Fingertips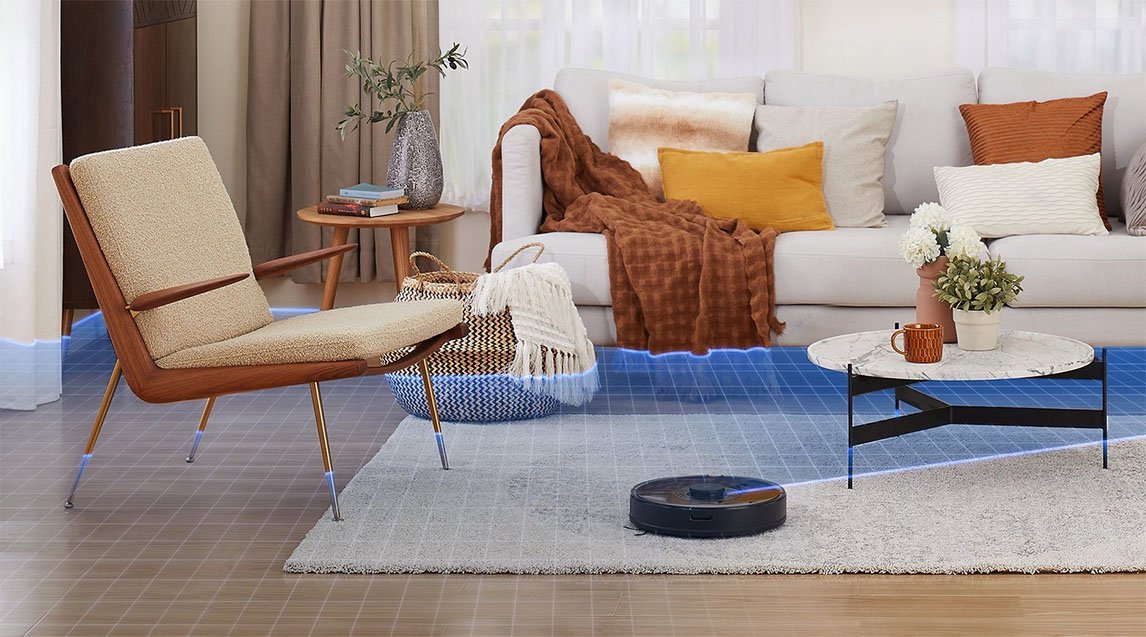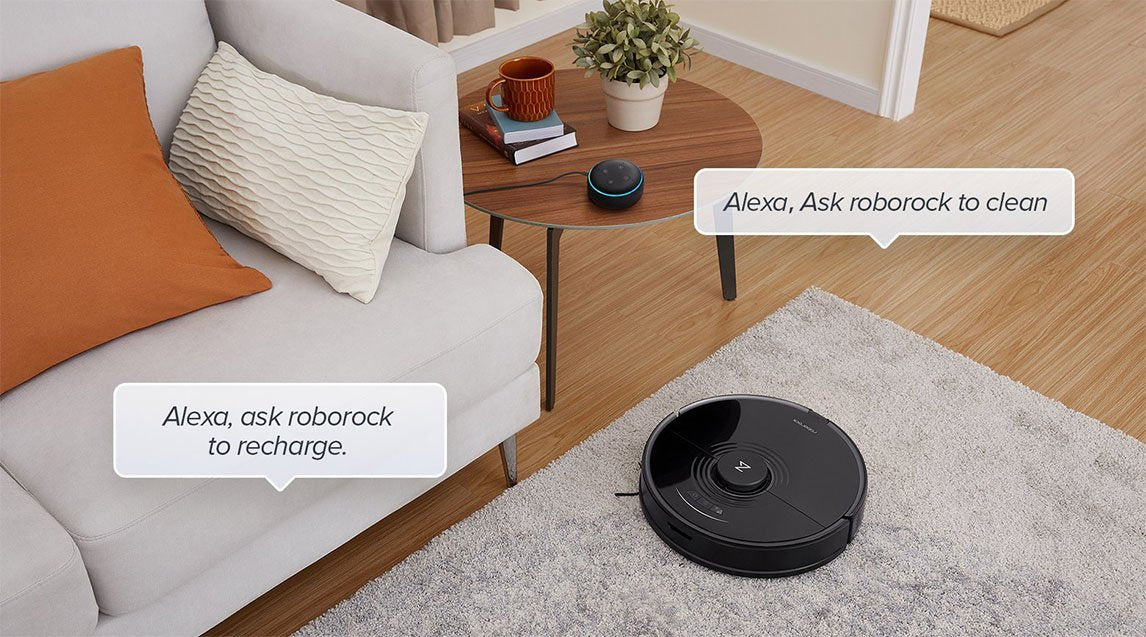 Precision Mapping
Pinpoint accurate LiDAR navigation creates detailed maps of your home and identifies your rooms across up to four levels.
Route Tracking
See the exact route taken during a clean, where has been mopped, and where has been vacuumed.
Carpet Display
Once identified, carpets are automatically marked on each of your maps for easier clean management.
Set Clean Intensity
Suction strength. Vibration strength. Water Flow. Even a special "deep mopping" mode for ultra-intense mopping. Choose what's best for you.
Restricted Areas
Set No-Go Zones and Invisible Walls to limit access to problem areas or protect fragile furniture. No add-ons required.
Advanced Scheduling
Automate cleaning to fit your life. Clean specific rooms, at particular times, several times a day, your whole house once a week, and everything in between.
Voice Control
Amazon Alexa, Google Home, and Siri Shortcuts support let you command your robot with the power of your voice.
PreciSense™ LiDAR Navigation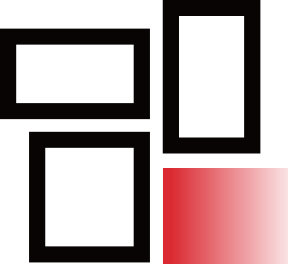 Automatic Room Recognition
Scratchsafe™ Wheels and Brushes
Sensient™ Sensor Array
Washable E118 Rated Air Filter
Adaptive Route Algorithms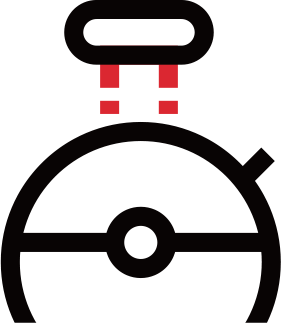 Auto Top-Up
Child Lock
Status Indicator Lights
*
Images and videos are for illustration purposes only and may not exactly represent the product.
1.
Based on internal testing carried out by the manufacturer. The term relates to the integrated mop module being able to be driven to produce high-speed reciprocating vibration of up to 3000 times/min, i.e. up to a frequency of 50Hz which is within a "sonic" range (20 to 20.000Hz).
2.
Based on internal testing carried out by the manufacturer according to IEC 62885-2:2016 / 5.8 standards.
3.
Based on internal testing carried out by the manufacturer, the mop module can be lifted up to 5mm.
4.
Automatic mop lifting is only suitable for low-pile carpets no higher than 4mm.
5.
Compared to Roborock's predecessor products.
6.
Based on internal testing carried out on hard floors with a full water tank, full battery, and low water flow. Actual results may vary, depending on the room characteristics. Range is an estimate based on the assumption that 20% of the area is covered by furniture and will not need to be mopped.
7.
Based on internal testing carried out by the manufacturer in Quiet mode on hard floors with a full battery and with no mop system attached. Actual results may vary according to the home environment.
8.
Tested by an independent third party according to EN 1822-1:2009 standards.