Methodical Cleaning Perfection
Clean your floors more effectively and efficiently with Roborock E5. Equipped with OpticEye™, dual gyroscopes, and precision internal mapping, it knows where it has been and what is left to clean. A 38%1 boost in HyperForce™ suction and double1 the battery power delivers deeper, longer-lasting cleaning. Keep the MagBase™ remote control close to hand for effortless control.
Logical Navigation
Dual gyroscopes, motion tracking systems, bumpers, and internal maps tell it where it has been, and help it plan more efficient routes around the home.
Powerful Suction
2500 Pa2 HyperForce™ suction gathers more grime from dirty floors and carpets.
MagBase™ Remote Control
Attach the remote control to any convenient magnetic surfaces with Roborock MagBase™.
Simultaneous Vacuuming and Mopping
Vacuum and mop simultaneously, mopping over 1600 sqft (150 sqm)3 with 180 ml SnapMop™ system4 , removing fine dirt that vacuuming alone may miss.
Long-Lasting Battery
A large 5200 mAh battery gives up to 200 mins5 of cleaning time, enough to clean most homes in a single clean.
Handle Larger Homes
Auto Top-Up allows large spaces to be covered by recording where cleaning has reached, recharging, then continuing where it left off.
Deeper Carpet Cleaning
The moment a carpet is detected, Automatic Carpet Boost increases suction power to the maximum for a more thorough clean.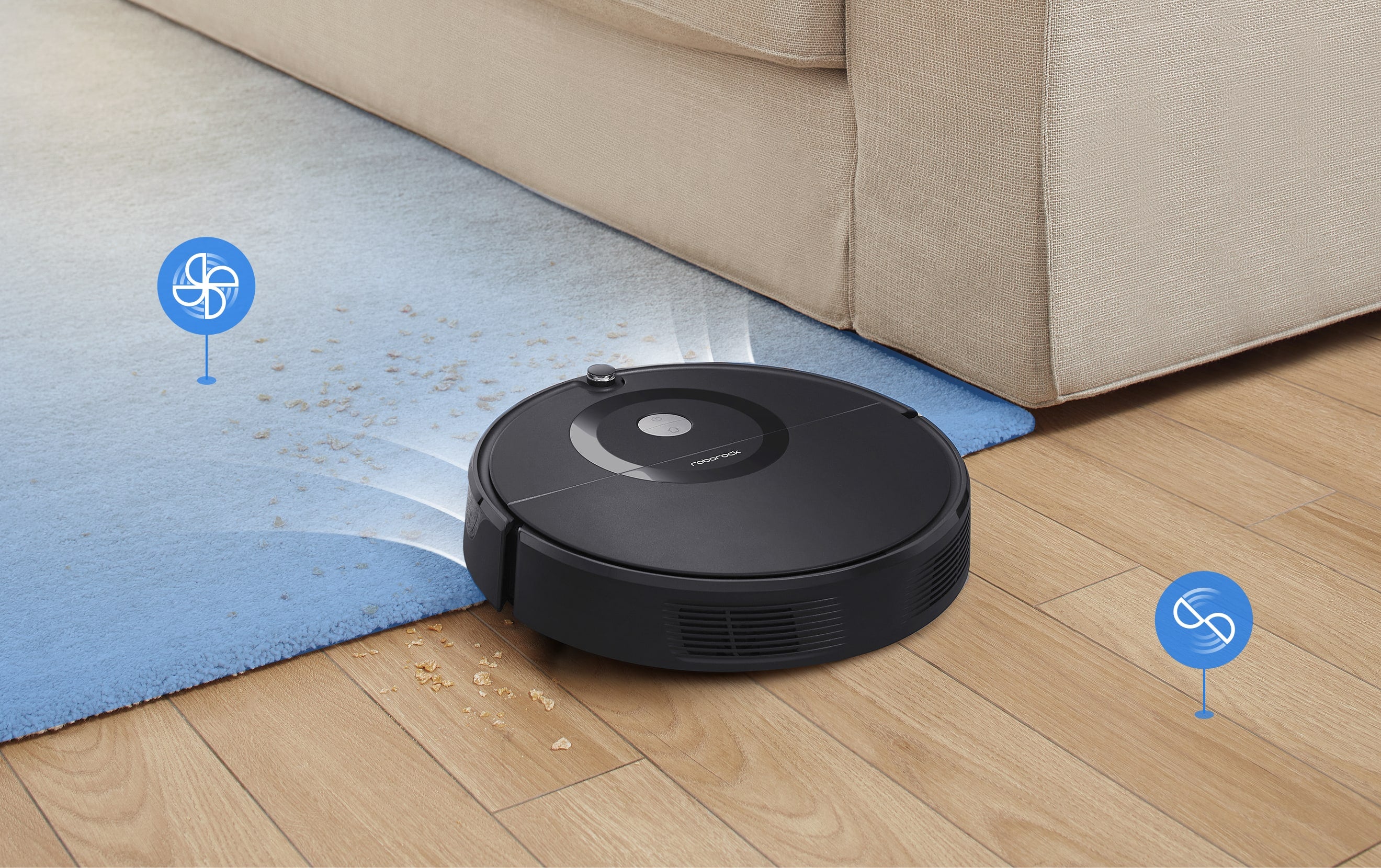 Reach Around the Home
Comprehensive App Control
Easy Voice Control
Traverse your entire home with a 2cm (0.8in)7 climbing ability that allows it to move from room to room and a low profile to go under low furniture.
Control everything with a few taps, including schedule setting, suction level selection, and even view a post-cleanup map6.
Start and pause cleanup with a simple voice command using Amazon Alexa and Google Home.
Extra-Large Dustbin
A large 640ml dustbin stores more dust so that it can be emptied less often.
Washable Filters
The washable E118 rated filter blocks dander and pollen and can be rinsed clean for longer life.
1. Based on internal testing carried out by the manufacturer. Compared to Roborock E2.
2. Based on internal testing carried out by the manufacturer according to IEC 62885-2:2016 / 5.8 standards.
3. Based on internal testing carried out on hard floors with a full water tank, full battery, and low water flow. Actual results may vary, depending on the room characteristics. Range is an estimate based on the assumption that 20% of the area is covered by furniture and will not need to be mopped.
4. SnapMop system is an optional extra for E5 units purchased on Amazon.
5. Based on internal testing carried out by the manufacturer in Quiet mode on hard floor with a full battery and with no mop system attached.
6. Compatible with the MiHome app only.
7. Without a mopping system attached.
8. Produced and tested by an independent third party in accordance with EN 1822-1:2009 standards.